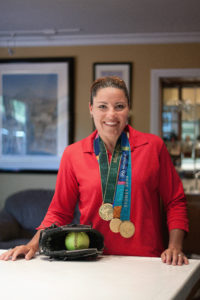 On May 5, 2019, the Board of Directors of the Baseball Reliquary announced the 21st class of electees to the Shrine of the Eternals. The Shrine of the Eternals is the national organization's equivalent to the Baseball Hall of Fame.
J.R. Richard, Billy Beane, and Lisa Fernandez were elected upon receiving the highest number of votes in balloting conducted during the month of April 2019 by the membership of the Baseball Reliquary. The three electees will be formally inducted into the Shrine of the Eternals in a public ceremony on Sunday, July 14, 2019 at the Donald R. Wright Auditorium in the Pasadena Central Library, Pasadena, California.
Of the fifty eligible candidates on the 2019 ballot, J.R. Richard received the highest voting percentage, being named on 27% of the ballots returned. Following Richard were Billy Beane with 26.5% and Lisa Fernandez with 26%. Runners-up in this year's election included Bob Costas (25%), Mamie "Peanut" Johnson (24.5%), Charlie Finley (24%), Charles M. Conlon (23%), Rube Waddell (22.5%), and Chet Brewer (22%). Voting percentages for all fifty candidates appear at the end of this announcement.
Elected to the Shrine of the Eternals in his 20th year on the ballot, J.R. RICHARD, born in 1950, was one of the most intimidating pitchers of his era. James Rodney Richard won 74 games in a four-year span (1976-1979) for the punchless Houston Astros, in the process becoming the first National League right-hander to record 300 strikeouts in a season (1978), and then doing it again the following year. Called by Sparky Anderson "the most awesome creature I ever saw on a mound," the 6-foot-8 flamethrower collapsed from a stroke in the summer of 1980, which abruptly ended his career. In the aftermath of the seizure, it came out that Richard had been feeling sluggish for some time, but had been talked out of his concern by Astro officials. Management and the media interpreted his listlessness as laziness and malingering. Until recent years, Richard's post-baseball career was a downhill slide. The financial disasters of two broken marriages and bad investments resulted in his destitution, and in 1993 he was discovered living under a freeway overpass a few miles from the Astrodome, an almost incomprehensible fall for a man who had once seemed to have the world in the palm of his hands. The ensuing publicity helped him land part-time work and get back on his feet. A movie about his life, Resurrection: The J.R. Richard Story, appeared in 2005, and his memoir, Still Throwing Heat: Strikeouts, the Streets, and a Second Chance, was published in 2015. In recent years he has been involved with several Houston area ministries, counseling at-risk youth, the homeless, and others in need.
Elected to the Shrine of the Eternals in his first year on the ballot, BILLY BEANE, born in 1962, successfully put into practice for the first time ideas formulated by Bill James, Pete Palmer, and other pioneer sabermetricians, theorists/advocates of the quantitative analysis of baseball statistics, so-named because of an affiliation with the Society for American Baseball Research (SABR). A former first-round draft pick by the New York Mets whose bright future as a player quickly darkened, Billy Beane would become the maverick general manager of the Oakland A's, where he needed a way for the small-market team to remain competitive against teams with far more financial clout, specifically the Yankees, Red Sox, and Angels. In 2002, he gambled his career to prove the statheads and figure filberts truly were on to something. Immediately pilloried in the press and derided by the hidebound baseball establishment, Beane coolly hired talent released by other organizations and plucked marginal players from the hinterlands, single-mindedly molding his team into a championship-caliber club over the objections of old-school types like Art Howe, the A's manager. Beane signed pitchers who kept opposing batters off base and batters who excelled at reaching base, by any means necessary. To the chagrin of his wealthier competitors and the stupefaction of others, the A's began winning, at one point reeling off 20 in succession, to finish atop the AL West with a 103-59 record. Although beaten by the Twins in the AL Divisional series that followed, the team's success did not go unnoticed. In the time-honored tradition of baseball, every experiment that shows a positive outcome for one team is instantly put into practice by all others. Beane's bold, paradigm-altering experiment is documented in Michael Lewis's 2003 book, Moneyball, and the film that followed. Every MLB team now has an analytics department to evaluate players and project their future performance.
Elected to the Shrine of the Eternals in her 19th year on the ballot, LISA FERNANDEZ, born in 1971, is one of softball's greatest players and one of the most highly visible athletes in women's team sports. The daughter of a Cuban-born former semi-pro ballplayer and a New York Puerto Rican stickball queen, Lisa Fernandez's golden arm propelled the U.S. Women's Olympic softball team to gold medal victories in 1996, 2000, and 2004. In high school, Fernandez notched two California Interscholastic Federation championships and went on to play collegiate softball at UCLA from 1990 through 1993. At UCLA (where she graduated with a degree in psychology), she broke seven school records and won the prestigious Honda-Broderick Award as best college athlete three times. She also was a two-time NCAA champion and a four-time All-American, leading the country in hitting (a robust .510) and ERA (0.23!) her senior year. When the dust settled on her college career, Fernandez had posted an astonishing 93-7 record (.930 winning percentage), at one point hurling 97 scoreless innings and 42 consecutive victories. A 2012 inductee to the U.S. Olympic Hall of Fame, Fernandez currently coaches softball at UCLA (2019 marks her 21st season with the Bruins) and travels extensively conducting softball clinics. Her influence on young women athletes has been profound.
J.R. Richard, Billy Beane, and Lisa Fernandez will join 60 other baseball luminaries who have been inducted into the Shrine of the Eternals since elections began in 1999, including, in alphabetical order: Jim Abbott, Dick Allen, Roger Angell, Emmett Ashford, Moe Berg, Sy Berger, Yogi Berra, Steve Bilko, Ila Borders, Jim Bouton, Jim Brosnan, Charlie Brown, Bill Buckner, Glenn Burke, Roberto Clemente, Steve Dalkowski, Dizzy Dean, Rod Dedeaux, Jim Eisenreich, Dock Ellis, Nancy Faust, Eddie Feigner, Mark Fidrych, Curt Flood, Ted Giannoulas, Josh Gibson, Jim "Mudcat" Grant, Pete Gray, Arnold Hano, William "Dummy" Hoy, Bo Jackson, Shoeless Joe Jackson, Bill James, Dr. Frank Jobe, Tommy John, Bill "Spaceman" Lee, Roger Maris, Marvin Miller, Minnie Minoso, Manny Mota, Don Newcombe, Lefty O'Doul, Buck O'Neil, Satchel Paige, Jimmy Piersall, Pam Postema, Jackie Robinson, Rachel Robinson, Lester Rodney, Pete Rose, Vin Scully, Rusty Staub, Casey Stengel, Luis Tiant, Bob Uecker, Fernando Valenzuela, Bill Veeck Jr., Maury Wills, Kenichi Zenimura, and Don Zimmer.
The Shrine of the Eternals:  2019 Voting Percentages
J.R. Richard – 27%
Billy Beane – 26.5%
Lisa Fernandez – 26%
Bob Costas – 25%
Mamie "Peanut" Johnson – 24.5%
Charlie Finley – 24%
Charles M. Conlon – 23%
Rube Waddell – 22.5%
Chet Brewer – 22%
Dr. Mike Marshall – 21.5%
Leo Durocher – 21%
Effa Manley – 21%
Denny McLain – 21%
Julio Franco – 20%
Rocky Colavito – 19%
Bill White – 19%
Annie Savoy – 18.5%
Rube Foster – 18%
Octavius V. Catto – 17%
Luke Easter – 17%
Melissa Ludtke – 17%
Fred Merkle – 17%
Tug McGraw – 16.5%
Bing Russell – 16.5%
Janet Marie Smith – 16.5%
Ralph Branca – 16%
Hideo Nomo – 16%
Vic Power – 16%
Charley Pride – 16%
Masanori Murakami – 15.5%
Tony Conigliaro – 15%
Dave Parker – 15%
Pete Reiser – 15%
Justine Siegal – 14%
John Thorn – 14%
Mike Veeck – 13.5%
John Young – 13.5%
Joe Pepitone – 13%
Jim Thorpe – 13%
Chris Von der Ahe – 13%
Bert Campaneris – 11%
Ernie Harwell – 11%
Ted Kluszewski – 10.5%
Kurt Bevacqua – 10%
Cleon Jones – 10%
Phil Pote – 10%
Shorty Perez – 9%
Dave Raymond – 9%
Boog Powell – 8.5%
Joe Schultz Jr. – 8.5%