On February 8, 2016, before an audience of over 200 at the Ruth B. Shannon Center for the Performing Arts, Whittier College presented a doctorate of humane letters, honoris causa, to Jim "Mudcat" Grant, in a visit and ceremony coordinated in conjunction with the Institute for Baseball Studies.  Video documentation of the ceremony, courtesy of Whittier College, can be viewed at https://www.youtube.com/watch?v=xkR0iYrdM-g.
The Faculty of Whittier College has the distinct honor to nominate and select candidates to receive the College's highest award, the honorary doctorate. Since the first ceremony in 1913, the impressive list of honorees has included major contributors in the fields of science, business, politics, engineering, education, and the humanities, among others. In addition to Jim "Mudcat" Grant, two other individuals connected with the world of sports have received the award: sportscaster Keith Jackson (2010), and decathlete and Olympic gold medalist Rafer Johnson (2005). Other notable figures receiving honorary doctorates include Eric Garcetti (2015), Bill Moyers (2011), Isabel Allende (2007), Frank Gehry (1995), Edward James Olmos (1993), Theodor Seuss Geisel (1980), Ray Bradbury (1979), Carl Sagan (1978), Tom Bradley (1976), Bob Hope (1965), and, yes, Richard Nixon (1954).
We are pleased to share the following photos from the Mudcat Grant honorary degree festivities.  A special thanks to Bonnie Price for identifying some of the individuals in the photos, and for providing many of the captions.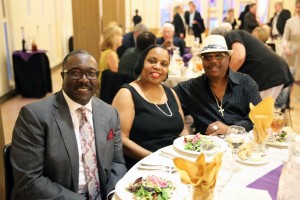 LEFT: At a dinner prior to the honorary degree ceremony, Whittier mayor Fernando Dutra presented Mudcat Grant with a commendation from the City of Whittier for his illustrious career and many accomplishments. USC professor Dan Durbin, right, is a close friend of Mudcat and helped with the organization of this momentous event. Dr. Durbin is on the advisory board of the Institute for Baseball Studies. RIGHT: Bob Kendrick, left, director of the Negro Leagues Baseball Museum in Kansas City, attended the festivities, along with two longtime friends and business associates of Mudcat.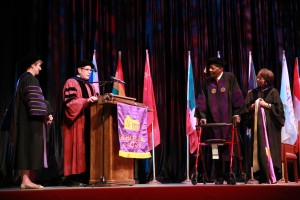 LEFT: Voce, a Whittier College student musical group, opened the ceremony for Dr. Mudcat Grant.  They sang Friends Forever, the school song.  RIGHT: Dr. Joe Price, at lectern, professor of religious studies at Whittier College and co-director of the Institute for Baseball Studies, was deeply honored to introduce Mudcat Grant.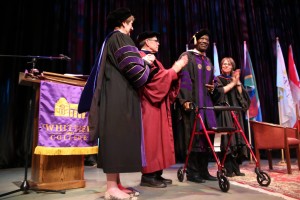 With assistance from Whittier College president Sharon Herzberger and professors Joe Price and Laura McEnaney, Mudcat received his academic stole, the garment that tells the world of his new status as Dr. James "Mudcat" Grant. This was a great moment for baseball history, and an important acknowledgement of Mudcat's athletic accomplishments, as well as his civil rights and humanitarian work.
After receiving his honorary doctorate, Mudcat was interviewed by Laura McEnaney, professor of American history at Whittier College, and he regaled the audience with many memories of his childhood and baseball career. A brief Q&A with the audience followed the interview.
LEFT: Student government officers Kourtney Brodnax, president of the Black Student Union, and Robert L. Duarte, president of the Associated Students of Whittier College, present Mudcat with a cap with the Whittier College motto: "Fear the Poet." As Kourtney cited in her speech, "The pen is mightier than the sword." RIGHT: An accomplished jazz and blues singer, Mudcat wrapped up the formal portion of the evening's festivities by singing a blues with his trio of dear friends and musicians.
LEFT: After Mudcat received his honorary doctorate, he welcomed some of the more than 200 attendees in the lobby of the Ruth B. Shannon Center for the Performing Arts. Whittier College baseball coach Mike Rizzo, right, brought some of his players to meet Mudcat. RIGHT: Faculty members Brian Reed and Mark Kozek display their delight with the exciting festivities . . . and the signed baseball. Mudcat signed autographs, posed for photos, and was incredibly generous with his time for an hour-and-a-half after the formal program concluded. It was an electric atmosphere.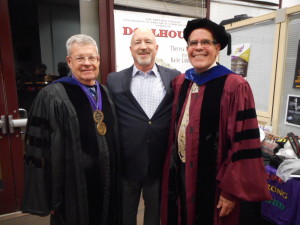 LEFT: Longtime Baseball Reliquary and Institute for Baseball Studies supporter Emma X. Amaya poses for a photo with Mudcat. RIGHT: Mike McBride, left, professor of political science at Whittier College and associate director of the Institute for Baseball Studies; businessman Michael Brown, center, who recently donated his collection of Negro Leagues memorabilia to the Institute; and Joe Price, right, professor of religious studies at Whittier College and co-director of the Institute for Baseball Studies.
LEFT: Mudcat with Joe Price and Sharon Herzberger, president of Whittier College. RIGHT: Mudcat with members of the Black Student Union at Whittier College, including president Kourtney Brodnax, left.