The Board of Directors of the Baseball Reliquary is pleased to announce that Dave Mesrey will deliver the Keynote Address at the Shrine of the Eternals Induction Day on Sunday, July 16, 2017 at the Donald R. Wright Auditorium in the Pasadena Central Library, Pasadena, California. The festivities will include the induction of the 2017 class of electees to the Shrine of the Eternals (Vin Scully, Bob Uecker, and Charlie Brown), and the presentation of the 2017 Hilda Award and the 2017 Tony Salin Memorial Award.
Along with 2016 Hilda Award recipient Tom Derry, Detroit native DAVE MESREY is a founding member of the Navin Field Grounds Crew, the grassroots collective of baseball fans which worked to preserve and maintain the site of Detroit's historic Tiger Stadium from 2010-2016. During that time, Mesrey served as creative consultant on Jason Roche's documentary on the Navin Field Grounds Crew, Stealing Home, winner of the inaugural Detroit Free Press Film Festival.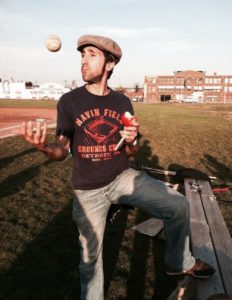 A natural southpaw, Mesrey is a Society of Professional Journalists (SPJ) award-winning writer and editor of magazines, books, and news sites, including the Detroit Metro Times, Hour Detroit magazine, and ESPN's Grantland.com. He is also founder of the Bird Bash, Detroit's annual tribute to the late, great Mark "The Bird" Fidrych (Shrine of the Eternals Class of 2002). A self-described Birdbrain, Mesrey has written extensively about the 1976 American League Rookie of the Year.
Mesrey was also the subject of Emmy Award-winning director Gary Glaser's Motor City Memoir project, and in 2009 was the first in Detroit to grace the stage at National Public Radio's critically acclaimed storytelling series The Moth.
Today, Mesrey is hard at work with the Friends of Historic Hamtramck Stadium, helping to restore an old Negro Leagues ballpark near Detroit. When he's not roaming the streets of Detroit cutting grass and picking up trash, Mesrey can be found at the local horse track huddled over a battered laptop writing bad poems about rusty flagpoles.